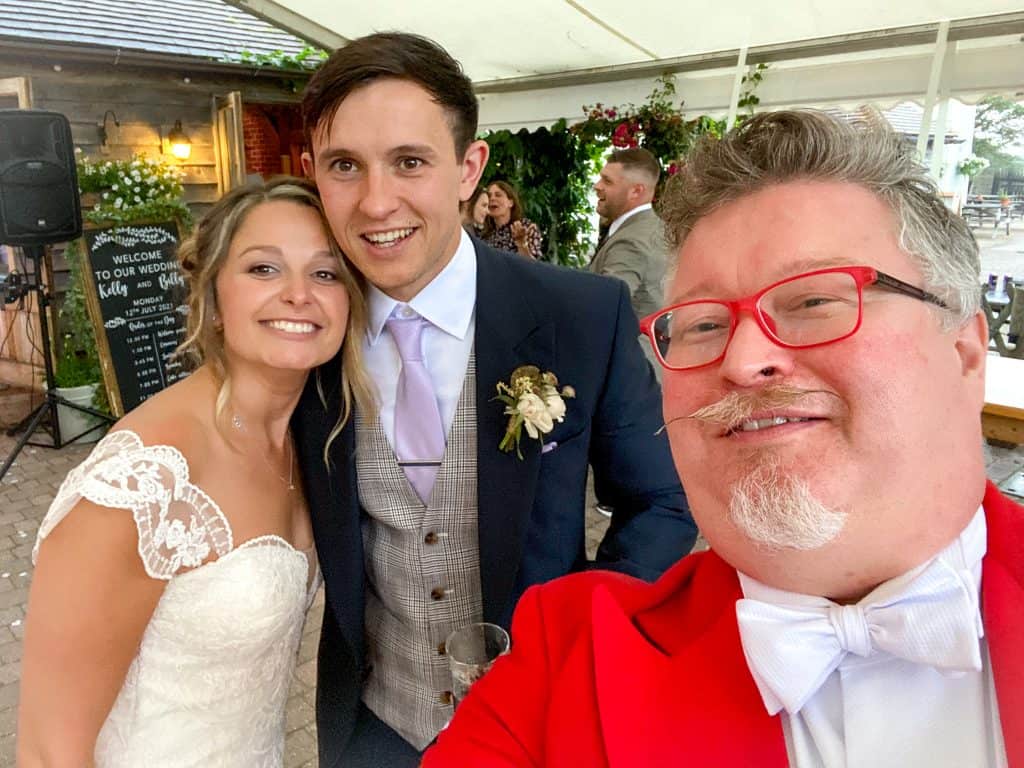 Many, many months after hanging up the red coat for a covid-enforced period of downtime, I was back at the Ferry House yesterday to do my toastmaster thing at the wedding of Kelly and Billy – the new Mr and Mrs Stevens.
The Ferry House is one of my regular and favourite venues. I'm honoured to be one of the two kent wedding toastmasters they recommend to their couples – the other is the amazing Phil Shorthouse. I'm also a recommended magician for the venue.
But back to Kelly and Billy's wedding…
Getting ready in the morning, making sure all my notes were in order, meant I was sitting in my office when the heavens opened – never a good sign for a wedding day. In the end, though, the weather was kind and the ceremony was held outside in the gazebo. Kelly and Billy have a family friend who is a celebrant and registrar in another local authority. They had arranged for her to perform the ceremony. It's always so nice when there is this extra level of personalisation.
Kelly and Billy's friends and family were a lovely bunch and a joy to work for. In fact, I thanked the happy couple before I left for being such a nice easing back into wedding life!
Also nice to be back working with other wedding suppliers. The photographers and videographers from TDH Media are also great to work with – professional and fun. The Artful Doodler is a great hit at weddings – guests love his caricatures. And it was nice to meet some suppliers I'd not worked with before – Lindsey from Dolly Photo Booths and The Revivers, a three-piece band who were leading the evening celebrations.
It's great to be back! If I can help you with your Kent Wedding, do get in touch.